NEWS ITEMS: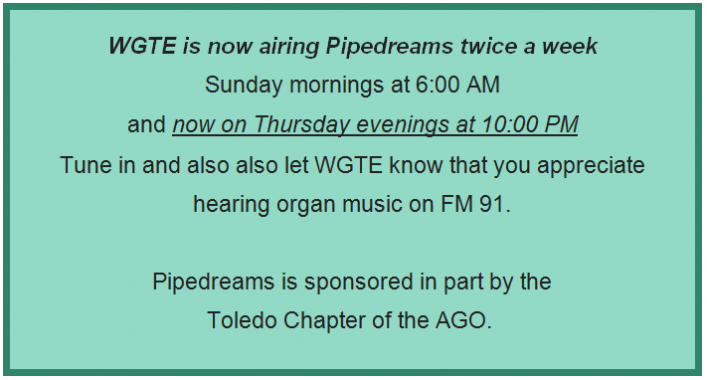 JOB POSTINGS:
DIRECTOR OF MUSIC:
 First Presbyterian Church of Findlay, Ohio, is actively seeking to fill the position of
Director of Music, by September 1st. FPC has a long history of wonderful music ministry
and wants to continue that tradition in the midst of a changing world. Under our most
recent director's leadership our music ministry has expanded beyond traditional chancel
choir and bell choir to include a children's choir, a week-long summer music and arts
camp, hosting and facilitating 6 concerts of regional musicians and choirs, and increased
ecumenical connection with other churches and the University of Findlay. The church is
also amid a large renovation of our Aeolian Skinner organ to be finish by year end. The
Director of Music is to work with the Pastor and other worship leaders to create dynamic,
traditional worship experiences on Sunday mornings and other Christian holidays
throughout the year. This position is full time with benefits. Responsibilities include
worship planning, playing organ weekly, directing choirs, oversight of the choral scholars
program/summer internship program and summer music and arts camp. Please send
resumes to info@findlayfpc.org
______________________________________________________________
CHURCH MUSICIAN:
St. John United Church of Christ in Defiance, Ohio, is seeking an organist/pianist.
Year-round position beginning Sept., 2020.Primarily traditional sacred music.Regular
duties include Sunday services, weekly choir rehearsals, occasional special services.
Substitute organist available. High degree of musical competence required; degree in
music preferred.
RELATED OPPORTUNITY:
St. John United Church of Christ would offer additional compensation for an
organist/choir director. In addition to organist duties cited above, this position
would include choral conducting experience and knowledge of choral music
repertoire. Degree in music and experience in liturgical choir conducting preferred.
Send inquiries with vita to St. John UCC, 950 Webster, Defiance, OH 43512,
419-782-4176 or to:  fred.coulter@gmail.com.
Phone contact:Dr. Sally Myers, 419-784-3608.
______________________________________________________________
PIANIST NEEDED
Competent pianist(s) needed for St. Patrick Catholic Church in Providence, Ohio (Grand Rapids).  Three liturgies per weekend – one Saturday at 4:30 PM, Sundays at 7:30 and 11:30 AM.  Fine Kawai studio upright piano and GATHER (GIA) hymnals in the pews.  Friendly people and a stipend in the $250 (per weekend) vicinity.
If you are interested, or know of someone who might be, contact the parish office at 419-832-5215 between 9 and 3, Monday – Thursday.
______________________________________________________________