NEWS ITEMS: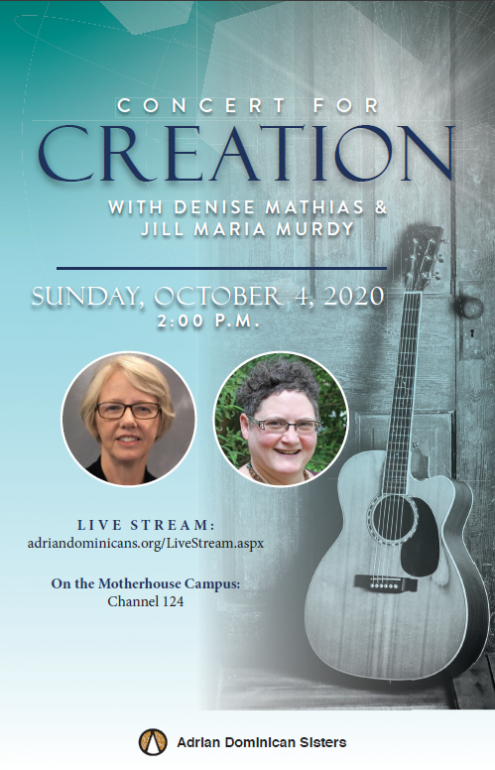 Click Here for Concert for Creation Live Stream
______________________________________________________________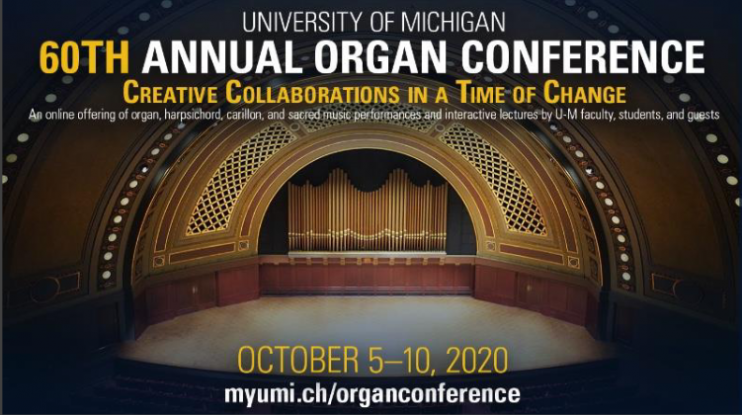 ______________________________________________________________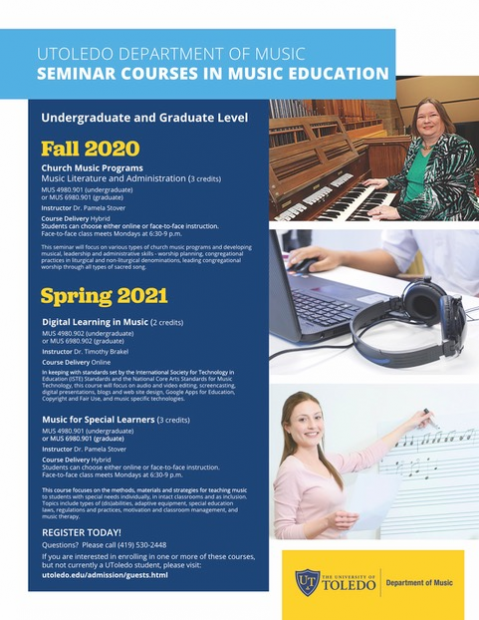 Interested in Church Music, Digital Learning in Music or Music for Special Learners?
We have some new music classes at the University of Toledo for Fall (starting August 17) and Spring (starting in January). You can get undergrad or graduate credits and if you are out of state or international, check to see if you qualify for our "online-only" discount which is just $1 above in-state tuition. If you are over 60 and have lived on Ohio for a year, you can check out the "Program 60" though the College of Adult and Life-Long learning where you can audit a course for FREE!
As always, we welcome new Graduate and Undergraduate students, as well as Guest Students. Guest Students who need to transfer credits to their home institution will find that we are fully accredited and that will help with your transfer.
Questions?  Contact Pam Stover or the music department office as listed on the flyer.
Dr. Pamela  Stover
Associate Professor of Music Education, University of Toledo
Associate Organist, Christ the King Parish, Toledo
Fulbright Research Scholar to the Kodály Institute, Kecskemét, Hungary 2020.
Editor The Country School Journal
pstover@rockets.utoledo.edu, pamela.stover@utoledo.edu
______________________________________________________________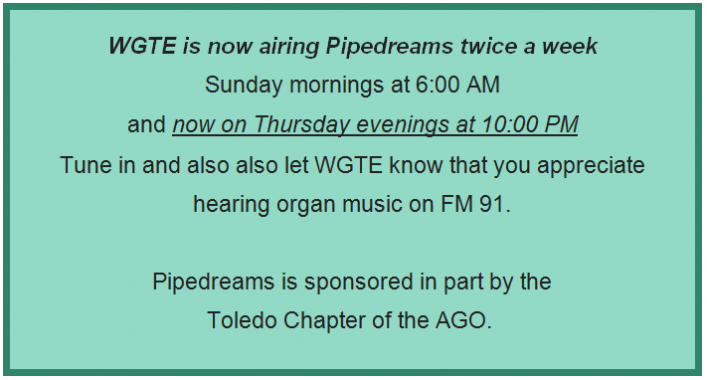 JOB POSTINGS:
Organist needed:
The First Presbyterian Church, (PCUSA) Bowling Green, Ohio, is in need of
an organist in harmony with our church mission and ideals and willing to start ASAP at
approximately $200 per Sunday (and as a salaried employee after a six-month trial period). We are a More Light congregation where "Christ Welcomes All" with a creatively traditional worship service requiring an open mind with a bend toward the Reformed Tradition in church music. Duties include playing for Sunday services (recorded or live), as well as other special services, community services, memorial service and weddings and accompanying choral singers at a Wednesday rehearsal and in the services. Organ is a 1985 two-manual northern European-style Baroque Instrument by the Leek Company, Berea.
Resumes should be sent to: Organist Search Committee, 126 S. Church St., Bowling Green, OH 43606
______________________________________________________________
DIRECTOR OF MUSIC:
 First Presbyterian Church of Findlay, Ohio, is actively seeking to fill the position of
Director of Music, by September 1st. FPC has a long history of wonderful music ministry
and wants to continue that tradition in the midst of a changing world. Under our most
recent director's leadership our music ministry has expanded beyond traditional chancel
choir and bell choir to include a children's choir, a week-long summer music and arts
camp, hosting and facilitating 6 concerts of regional musicians and choirs, and increased
ecumenical connection with other churches and the University of Findlay. The church is
also amid a large renovation of our Aeolian Skinner organ to be finish by year end. The
Director of Music is to work with the Pastor and other worship leaders to create dynamic,
traditional worship experiences on Sunday mornings and other Christian holidays
throughout the year. This position is full time with benefits. Responsibilities include
worship planning, playing organ weekly, directing choirs, oversight of the choral scholars
program/summer internship program and summer music and arts camp. Please send
resumes to info@findlayfpc.org
______________________________________________________________
CHURCH MUSICIAN:
St. John United Church of Christ in Defiance, Ohio, is seeking an organist/pianist.
Year-round position beginning Sept., 2020.Primarily traditional sacred music.Regular
duties include Sunday services, weekly choir rehearsals, occasional special services.
Substitute organist available. High degree of musical competence required; degree in
music preferred.
RELATED OPPORTUNITY:
St. John United Church of Christ would offer additional compensation for an
organist/choir director. In addition to organist duties cited above, this position
would include choral conducting experience and knowledge of choral music
repertoire. Degree in music and experience in liturgical choir conducting preferred.
Send inquiries with vita to St. John UCC, 950 Webster, Defiance, OH 43512,
419-782-4176 or to:  fred.coulter@gmail.com.
Phone contact:Dr. Sally Myers, 419-784-3608.
______________________________________________________________
PIANIST NEEDED
Competent pianist(s) needed for St. Patrick Catholic Church in Providence, Ohio (Grand Rapids).  Three liturgies per weekend – one Saturday at 4:30 PM, Sundays at 7:30 and 11:30 AM.  Fine Kawai studio upright piano and GATHER (GIA) hymnals in the pews.  Friendly people and a stipend in the $250 (per weekend) vicinity.
If you are interested, or know of someone who might be, contact the parish office at 419-832-5215 between 9 and 3, Monday – Thursday.
______________________________________________________________