Date
Event
Details
Sunday, September 12 4:00 pm
AGO Picnic
Three Meadows Park Picnic Shelter
300 Three Meadows Dr., Perrysburg (off State Route 20 near I-75)
The Chapter will provide sandwiches. Please bring a dish to share, table service and beverage of your choice.
Consider bringing a friend or colleague who might be interested in joining the Chapter or someone who was a former member.
RSVP if you plan to attend  and let us know what you will bring to share. toledoago419@gmail.com
Friday, September 17 7:00 pm
Organ Rededication Concert
First Presbyterian Church
2330 S. Main St, Findlay
Join us to rededicate our organ with a recital by world renowned Organist Todd Wilson Recital
Sunday, September 19 4:00 pm
Concert- Dan Boyle Organist
Solomon Lutheran Church
305 W Main St, Woodville, OH 43469
Sunday, September 26 4:00p.m.
St Joan of Arc New Pipe Organ Dedication Recital
St Joan of Arc Toledo, 5856 Heatherdowns Blvd, Toledo, OH 43614
Recital performed by Todd Wilson
Muller Pipe Organ Company
Click on the link Below for flyer:
St Joan of Arc Dedication 
Sunday, October 24 3:00p.m.
ORGAN SCHOLARSHIP AUDITIONS
First Presbyterian Church
200 E. Broadway
Maumee, OH 43537
Organ Scholarship Auditions for students in Grades 7 – 12 And Adult Students not currently enrolled in a collegiate organ program.
SPONSORED BY THE AMERICAN GUILD OF ORGANISTS TOLEDO CHAPTER
Applications must be mailed (or emailed) by October 14.
Click on the link Below for details and application:
Organ Scholarship Audition Application  
Friday, November 5 5:30p.m.- 8:00p.m.
Dinner meeting
Dinner meeting: "Adopting an Orphan Pipe Organ" will include visits to St.
Joan of Arc and Our Lady of Lourdes Church where "orphan" organs have been relocated.

Monday, December 6
Advent/Christmas Member's Recital
Location to be determined.

January 5 or 6
Epiphany/Twelfth Night Part
Location and details to be determined.

February
"Franck in February"
A presentation/masterclass on the music of Cesar Franck
Date, time, and location to be determined.

– Sunday, March 13 – 3:00 PM
Scholarship Recital
First Presbyterian Church, Maumee

– Sunday, March 20 – 3:00 PM
Franck Project 2022
Dexter Kennedy, organist;
Franck Project 2022 concert at Rosary Cathedral.

May
Banquet
Date, time, and location to be determined.

Further information about Toledo AGO activities can be found in the Newsletters posted on this website. 
NEWS ITEMS:
Available Substitute Organist.
Kathy Mumy-  kmumy1959@gmail.com
(419) 410-2298
__________________________________________________________
Available Sub or Interim for Organ, Piano or Choir
Dr. Pam Stover is available for subbing or interim work on  Saturdays, Sundays and weekday services, weddings and funerals. Organ, piano or choir directing (children, youth, adults) familiar with the Lutheran and Catholic liturgies and most other denominations.
Pam Stover 618-525-9709 (cell)
pamela.stover@utoledo.edu
pamelajstover@gmail.com
__________________________________________________________
Sunday, September 26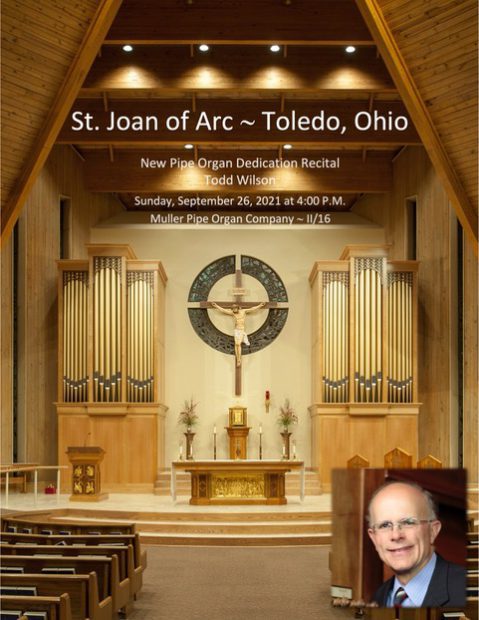 ______________________________________________________________
Saturday, October 2 and Sunday, October 3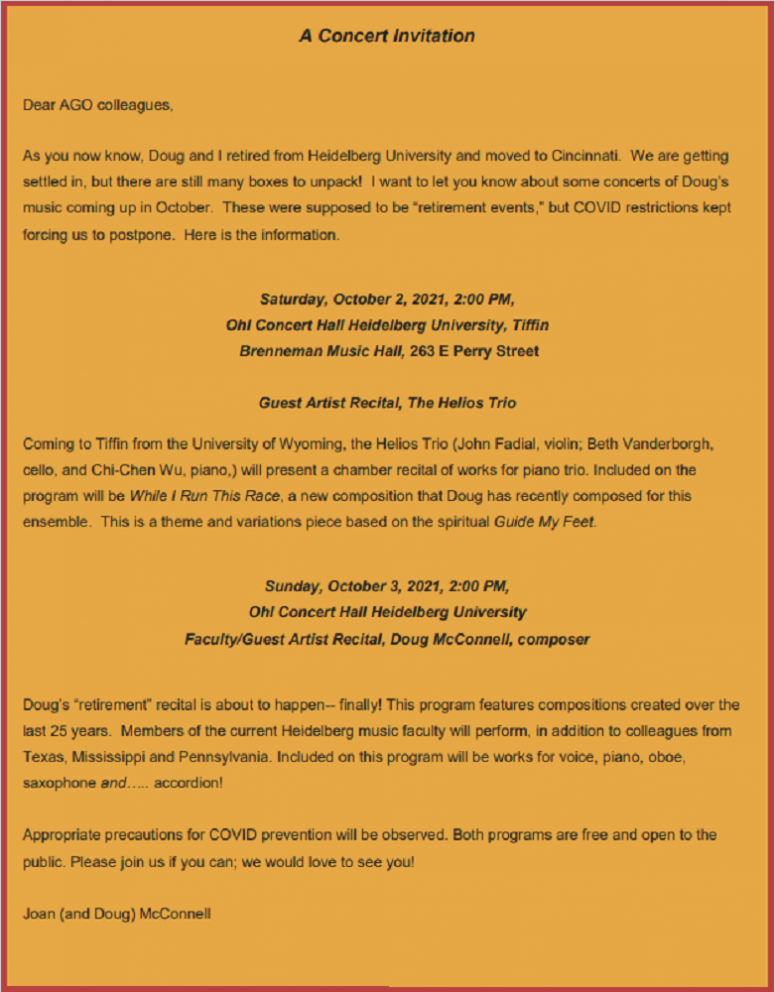 ______________________________________________________________
Sunday, October 3- Wednesday, October 6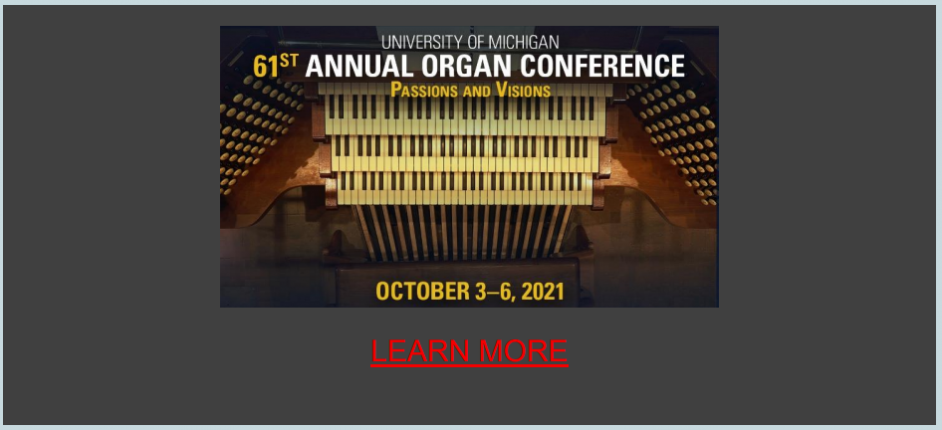 Sunday, October 24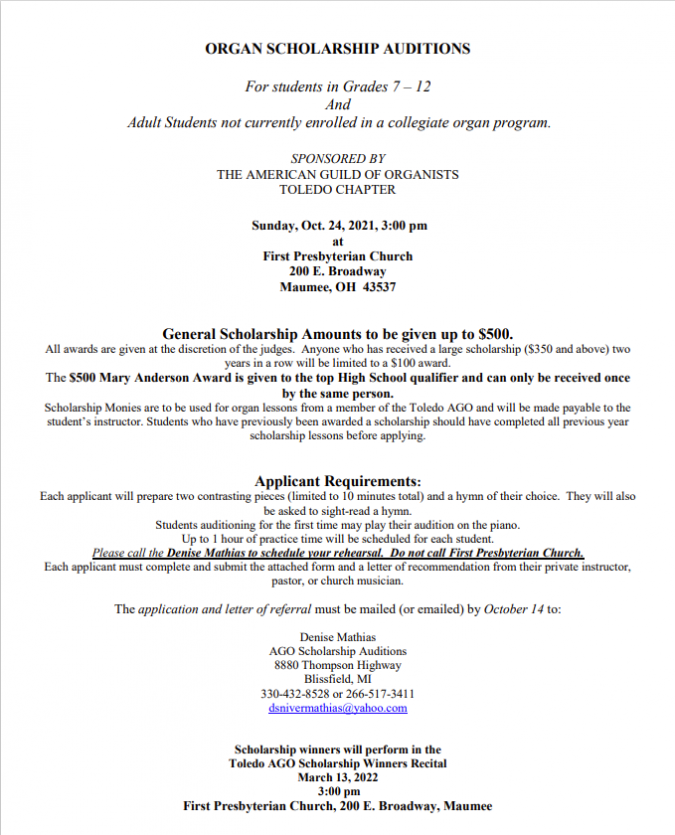 Click here for Scholarship Audition Application
______________________________________________________________