Date
Event
Details
Sunday, Sept. 11
4:00 PM
AGO Picnic Potluck
Three Meadows Park Picnic Shelter
300 Three Meadows Dr., Perrysburg (off State Route 20 near I-75)

The Chapter will provide sandwiches. Please bring a dish to share, table service and beverage of your choice. Consider bringing a friend or colleague who might be interested in joining the Chapter or someone who was a former member.RSVP is welcomed and what you will bring to share. toledoago419@gmail.com

Saturday, October 1
9:30am – 12 Noon
Choral Reading Session
Sylvania United Church of Christ

Dennis Blubaugh and Paul Monachino will showcase new releases from major publishers. You will be certain to find several useful items for your choir. Each participant will receive a free packet of music.
Co-sponsored by Musical Resources.

Thursday, October 20 1:00 PM
George Blackney Organ Concert- Electricity
First Presbyterian Church, 200 E. Broadway St. Maumee, Ohio.

George Blackney's program is entitled, ELECTRICITY–a neologism used to describe an engaging, musical performance that is introduced by poetic quips and veritable information. Selections include works by Bach, Bedard, Broughton, Peterson, Vaughan-Williams, and The Revival March by John Phillip Sousa.

Saturday, November 5
10 AM – 12 Noon
Service Playing Workshop led by Dr. Nicole Keller
Christ Presbyterian Church, Toledo

Recently appointed to the faculty at the University of Michigan, Dr. Keller will share her many years of experience as a church musician in this workshop focusing on skills for the organist in hymn playing, anthem accompaniment, and improvisation.

January
Date and time TBD
Epiphany/Twelfth Night Party
Hosted by Charlotte Mariasy. Date and Time TBA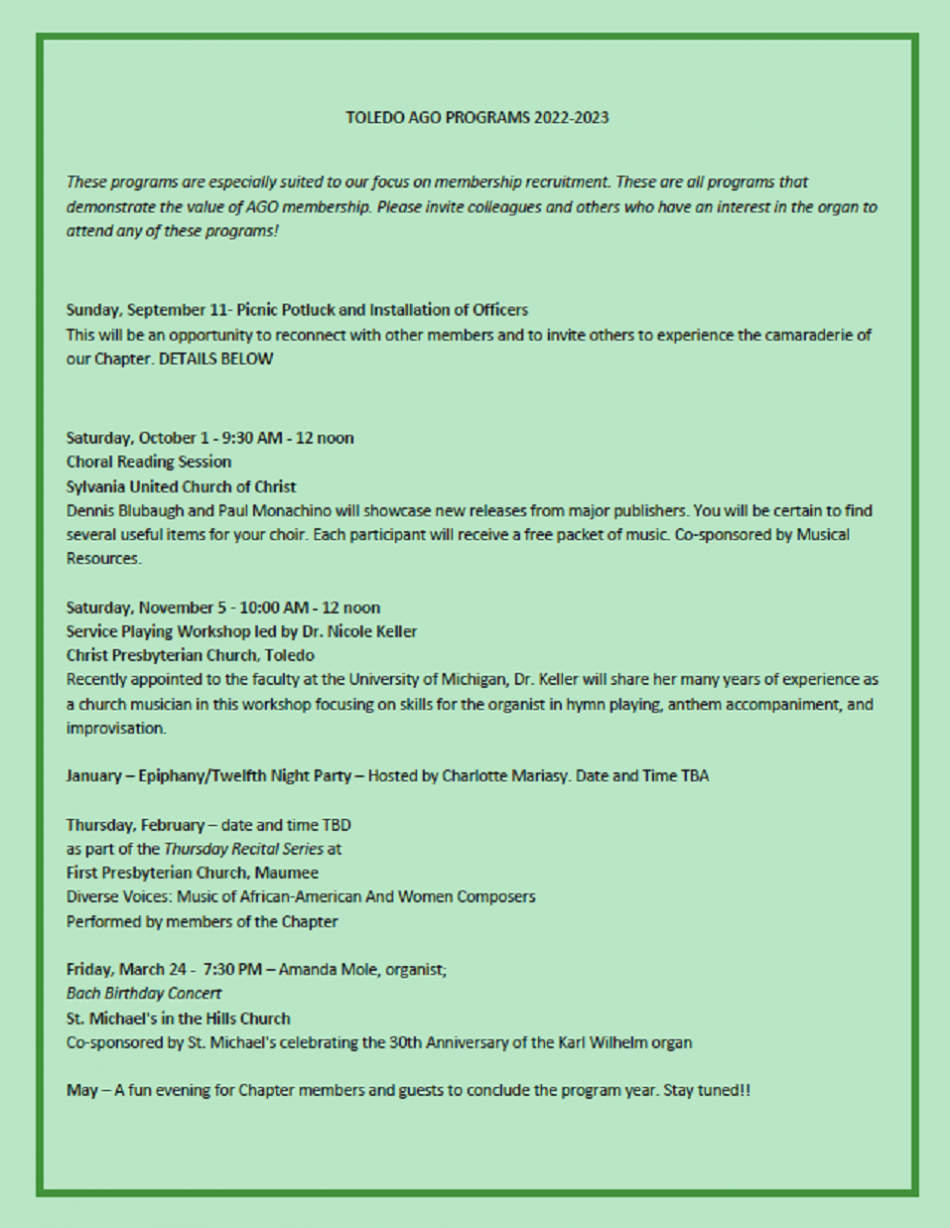 Further information about Toledo AGO activities can be found in the Newsletters posted on this website.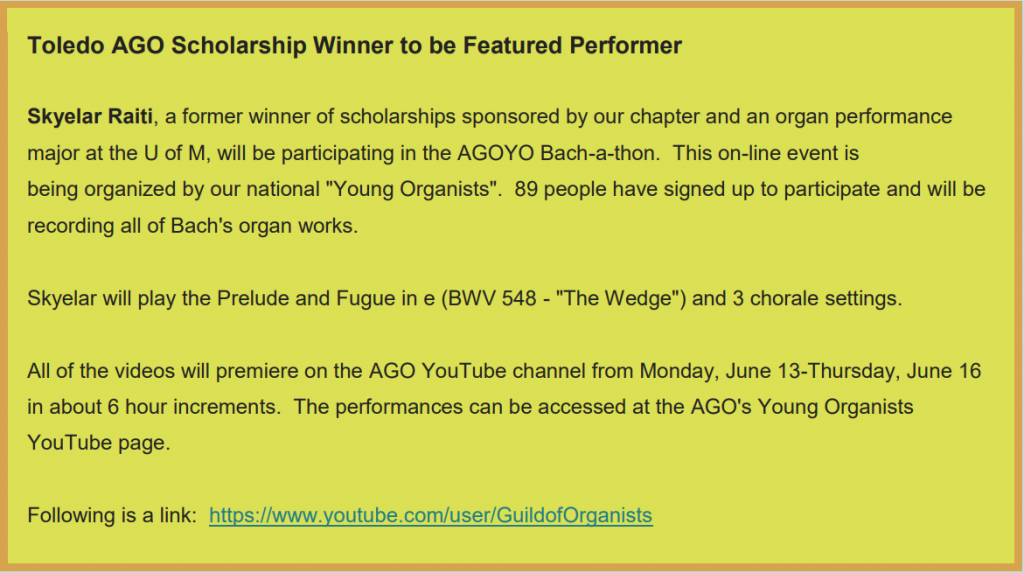 ________________________________________________________
 NEWS ITEMS:
Available Substitute Organist
Kathy Mumy-  kmumy1959@gmail.com(419) 410-2298
______________________________________________________________
Available Sub or Interim for Organ, Piano or Choir
Dr. Pam Stover is available for subbing or interim work on  Saturdays, Sundays and weekday services, weddings and funerals. Organ, piano or choir directing (children, youth, adults) familiar with the Lutheran and Catholic liturgies and most other denominations. Pam Stover 618-525-9709 (cell)pamela.stover@utoledo.edupamelajstover@gmail.com
______________________________________________________________
Over the past three years St. John's Lutheran Church Bellevue, Ohio, completed a tonal redesign of its 4/53 organ under the direction of GT Organ Associates and J. C Wilson & Associates. St. John's had planned an inaugural concert for May, 2020 that was cancelled due to the COVID pandemic.
In place of a rededication concert, St. John's Lutheran Church is pleased to extend an invitation to you to set up a date and time for you to bring your music, come in and play, and explore the tonal possibilities that this organ possesses.  If you are interested, contact  Paul Lieber plieber08@gmail.com  (419) 217-7046.
The organ specification can be found below:
Click here for:  *St John Lutheran Church Bellevue – Specifications*
________________________________________________________