Date
Event
Details
Sunday, January 9
4:00 p.m. to 7:00 p.m.
Epiphany Party
Hosted by Charlotte Mariasy
1614 Wildwood, Toledo
Main dish will be provided.
Bring a holiday side dish, snack or dessert to share.
Bring 3 quarters to participate in the party game!
February
"Franck in February"
A presentation/masterclass on the music of Cesar Franck
Date, time, and location to be determined.
Sunday, March 13
3:00 PM
Scholarship Recital
First Presbyterian Church, Maumee
Sunday, March 20
3:00 PM
Franck Project 2022
Dexter Kennedy, organist;
Franck Project 2022 concert at Rosary Cathedral.
May
Banquet
Date, time, and location to be determined.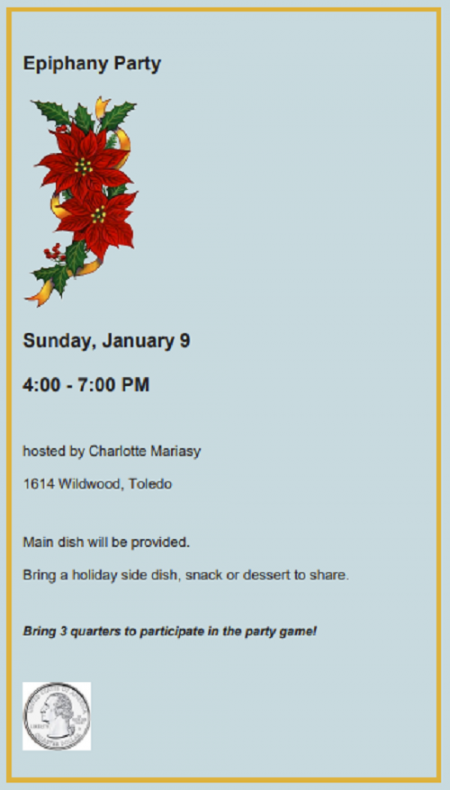 Further information about Toledo AGO activities can be found in the Newsletters posted on this website. NEWS ITEMS: Available Substitute Organist Kathy Mumy-  kmumy1959@gmail.com(419) 410-2298
__________________________________________________________
Over the past three years St. John's Lutheran Church Bellevue, Ohio, completed a tonal redesign of its 4/53 organ under the direction of GT Organ Associates and J. C Wilson & Associates. St. John's had planned an inaugural concert for May, 2020 that was cancelled due to the COVID pandemic.
In place of a rededication concert, St. John's Lutheran Church is pleased to extend an invitation to you to set up a date and time for you to bring your music, come in and play, and explore the tonal possibilities that this organ possesses.  If you are interested, contact  Paul Lieber plieber08@gmail.com  (419) 217-7046.
The organ specification can be found below:
Click here for:  *St John Lutheran Church Bellevue – Specifications*
__________________________________________________________
Available Sub or Interim for Organ, Piano or Choir Dr. Pam Stover is available for subbing or interim work on  Saturdays, Sundays and weekday services, weddings and funerals. Organ, piano or choir directing (children, youth, adults) familiar with the Lutheran and Catholic liturgies and most other denominations. Pam Stover 618-525-9709 (cell)pamela.stover@utoledo.edupamelajstover@gmail.com
______________________________________________________________